Pro Full Gearbag Printed
Traveling bag for Skydivers with supercool design and new features.
Made of strong cordura 600D material, YKK 1cm zipper, wear-resistant bottom, foam stiffeners and strong straps.
The shoulder straps are hideable, so you can leave them as checked luggage on flights.
Can be packed when laid out, the foam stiffener provides extra support and protects all your equipment on the Dropzone, both at the airport and when traveling.
The larger fits your wingsuit or all your stuff for a DZ weekend.
Suitable for storing your complete equipment, shoes, clothes, papers and such.
There is a large compartment for your rig, shoes, two big side and two front pockets, which also has foam stiffening.

JERSEY MEASUREMENTS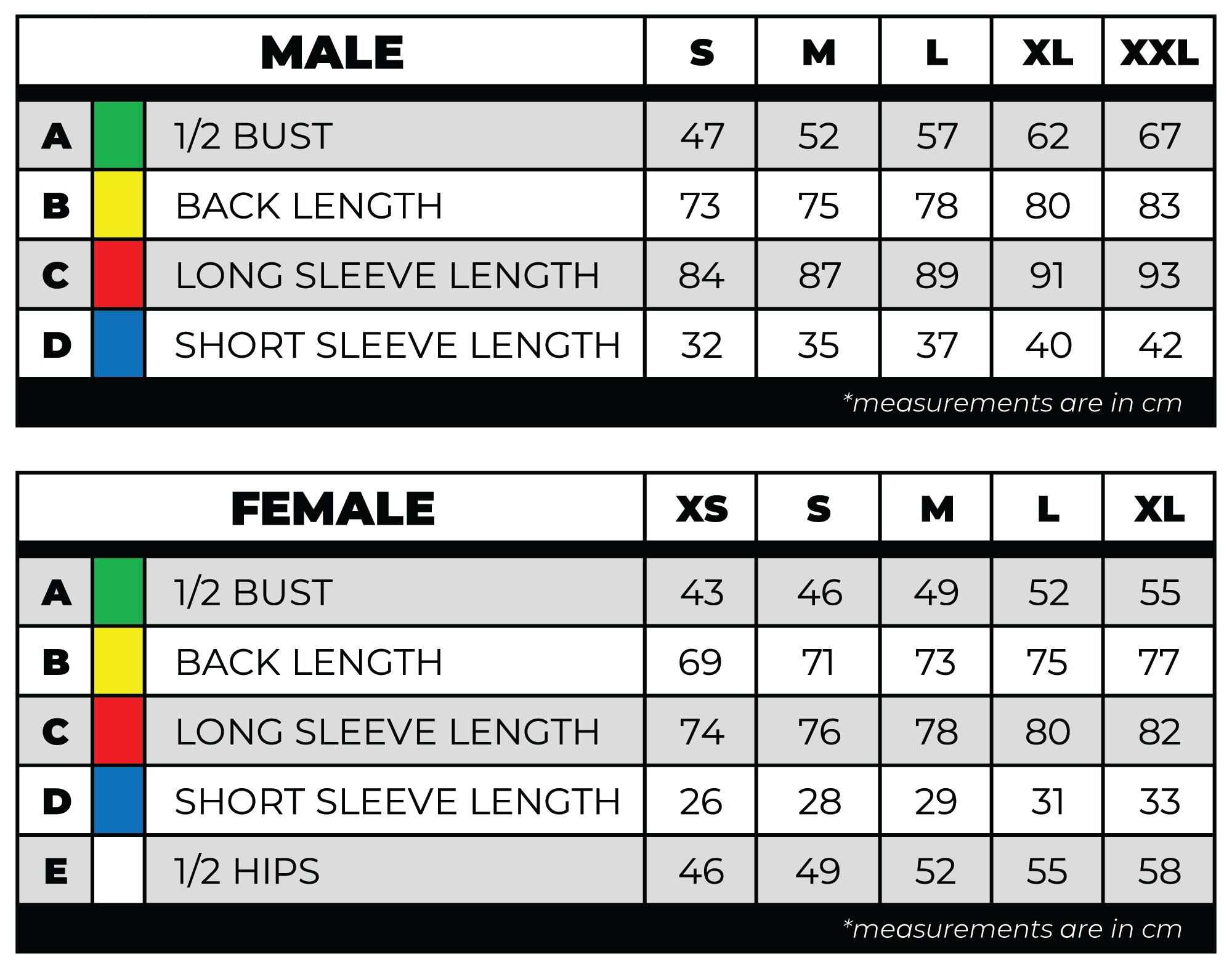 | SIZE | S | M | M/L | L | XL | XXL |
| --- | --- | --- | --- | --- | --- | --- |
| HEIGHT | 168 | 172 | 177 | 183 | 190 | 194 |
| WEIGHT | 55 | 65 | 80 | 80 | 100 | 110 |
| | Hoodie , JERSEY, Softshell & T-shirt | CM / KG |
| --- | --- | --- |
| SIZE | S | M | L | XL |
| --- | --- | --- | --- | --- |
| HEIGHT | 155-165 | 165-175 | 175-185 | 185-195 |
| WEIGHT | 55-75 | 60-85 | 70-95 | 80-105 |
| SIZE | S | M | L | XL |
| --- | --- | --- | --- | --- |
| WAIST | 84-86 | 86-90 | 90-94 | 94-98 |
| HIP | 92-96 | 96-100 | 100-104 | 104-108 |
| THIGH | 52-55 | 54-57 | 56-59 | 59-62 |
| INNER LEG | 76-80 | 80-84 | 84-88 | 88-92 |
| INNER LEG (*SHORT) | 44-47 | 47-52 | 52-55 | 55-58 |
| HEIGHT | 155-165 | 165-175 | 175-185 | 185-195 |
| WEIGHT | 55-75 | 60-85 | 70-95 | 80-105 |
| SHOE SIZE | 40,5 | 41,5 | 42,5 | 43,5 |
| | Suits & Short suits | CM / KG |
| --- | --- | --- |
SIZE
S
Slim
S
Normal
S
Big
M
Slim
M
Normal
M
Big
L
Slim
L
Normal
L
Big
XL
Slim
XL
Normal
XL
Big
CHEST
90-94
94-98
98-102
94-98
98-102
102-106
98-102
102-106
106-110
102-106
106-110
110-114
WAIST
78-82
84-86
86-90
82-86
86-90
90-94
86-90
90-94
94-98
90-94
94-98
98-102
HIP
88-92
92-96
96-100
92-96
96-100
100-104
96-100
100-104
104-108
100-104
104-108
108-112
THIGH
50-53
52-55
54-57
52-55
54-57
56-59
54-57
56-59
58-61
57-60
59-62
61-64
INNER LEG
76-80
76-80
76-80
80-84
80-84
80-84
84-88
84-88
84-88
88-92
88-92
88-92
INNER LEG (*SHORT)
44-47
44-47
44-47
47-52
47-52
47-52
52-55
52-55
52-55
55-58
55-58
55-58
TORSO
146-152
146-152
146-152
152-158
152-158
152-158
158-164
158-164
158-164
164-170
164-170
164-170
ARM LENGTH
69-72
69-72
69-72
72-75
72-75
72-75
76-79
76-79
76-79
79-82
79-82
79-82
ARM LENGTH (*SHORT)
36-40
36-40
36-40
40-44
40-44
40-44
44-48
44-48
44-48
48-52
48-52
48-52
HEIGHT
155-165
155-165
155-165
165-175
165-175
165-175
175-185
175-185
175-185
185-195
185-195
185-195
WEIGHT
55-75
55-75
55-75
60-85
60-85
60-85
70-95
70-95
70-95
80-105
80-105
80-105
SHOE SIZE
40,5
40,5
40,5
41,5
41,5
41,5
42,5
42,5
42,5
43,5
43,5
43,5