The origin of the Half-A's creation started after I thought that with the BEaSt I reached the maximum size of what I consider still being a tracksuit: a suit with body shape, just larger. Thinking about the first "wingsuit" I ever flew, the SFly Access, I decided to design this new suit, a wingsuit with the closest freedom of movement to a tracksuit I could make. This hybrid suit gives the possibility to stretch the wings and to exit like a tracksuit: you can run and put your arms up! You will feel some tension while doing that, but no real restriction. This is due to the unique and new shoulder design, where the inflated arm is going through.
/ Antoine Laporte /
This category is mostly created for BASE jumping, although it can be an option for those skydivers who dislike wingsuit discipline due to the limited arm movements, but still want to feel the horizontal flying.
Recommendation:
- Minimum: 200 skydive jumps
- Minimum: 30-50 jumps with small and intermediate surfaced tracking / wingsuits
Features:
A lot of ribs, solid and smooth one-wing profile,
The air pressure goes around the body, flows freely between the wings and arms.
Because of this, even one air inlet can provide the maximum load in the arms.
The wrists and ankles are made without any fixing points, so they can provide maximum comfort.
The inside pressure holds the arms in a good position, just as the legs, plus there are clips to attach to the shoes.
Two big inside pockets on the sides, it can contain everything You would need.
Front pocket with zip, for belly cam.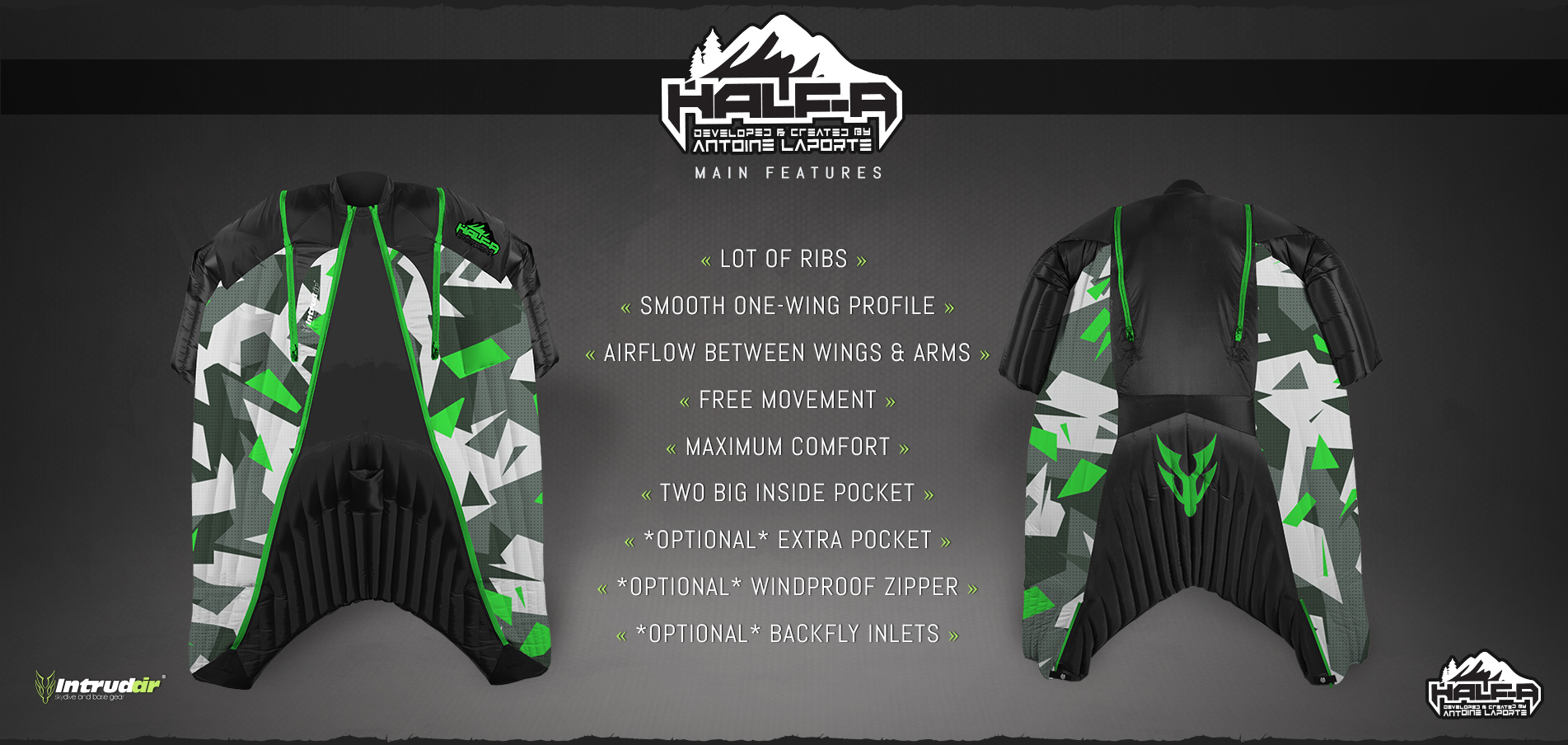 Half-A [L] Printed Black/White
How To Measure
| SIZE | S | M | M/L | L | XL | XXL |
| --- | --- | --- | --- | --- | --- | --- |
| HEIGHT | 168 | 172 | 177 | 183 | 190 | 194 |
| WEIGHT | 55 | 65 | 80 | 80 | 100 | 110 |
| | Hoodies , Sweaters , Softshells & T-shirts | CM / KG |
| --- | --- | --- |
| SIZE | S | M | L | XL |
| --- | --- | --- | --- | --- |
| HEIGHT | 155-165 | 165-175 | 175-185 | 185-195 |
| WEIGHT | 55-75 | 60-85 | 70-95 | 80-105 |
| SIZE | S | M | L | XL |
| --- | --- | --- | --- | --- |
| WAIST | 84-86 | 86-90 | 90-94 | 94-98 |
| HIP | 92-96 | 96-100 | 100-104 | 104-108 |
| THIGH | 52-55 | 54-57 | 56-59 | 59-62 |
| INNER LEG | 76-80 | 80-84 | 84-88 | 88-92 |
| INNER LEG (*SHORT) | 44-47 | 47-52 | 52-55 | 55-58 |
| HEIGHT | 155-165 | 165-175 | 175-185 | 185-195 |
| WEIGHT | 55-75 | 60-85 | 70-95 | 80-105 |
| SHOE SIZE | 40,5 | 41,5 | 42,5 | 43,5 |
| | Suits & Short suits | CM / KG |
| --- | --- | --- |
MORE INFORMATIONS FOR MEASURING
SIZE
S
Slim
S
Normal
S
Big
M
Slim
M
Normal
M
Big
L
Slim
L
Normal
L
Big
XL
Slim
XL
Normal
XL
Big
CHEST
90-94
94-98
98-102
94-98
98-102
102-106
98-102
102-106
106-110
102-106
106-110
110-114
WAIST
78-82
84-86
86-90
82-86
86-90
90-94
86-90
90-94
94-98
90-94
94-98
98-102
HIP
88-92
92-96
96-100
92-96
96-100
100-104
96-100
100-104
104-108
100-104
104-108
108-112
THIGH
50-53
52-55
54-57
52-55
54-57
56-59
54-57
56-59
58-61
57-60
59-62
61-64
INNER LEG
76-80
76-80
76-80
80-84
80-84
80-84
84-88
84-88
84-88
88-92
88-92
88-92
INNER LEG (*SHORT)
44-47
44-47
44-47
47-52
47-52
47-52
52-55
52-55
52-55
55-58
55-58
55-58
TORSO
146-152
146-152
146-152
152-158
152-158
152-158
158-164
158-164
158-164
164-170
164-170
164-170
ARM LENGTH
69-72
69-72
69-72
72-75
72-75
72-75
76-79
76-79
76-79
79-82
79-82
79-82
ARM LENGTH (*SHORT)
36-40
36-40
36-40
40-44
40-44
40-44
44-48
44-48
44-48
48-52
48-52
48-52
HEIGHT
155-165
155-165
155-165
165-175
165-175
165-175
175-185
175-185
175-185
185-195
185-195
185-195
WEIGHT
55-75
55-75
55-75
60-85
60-85
60-85
70-95
70-95
70-95
80-105
80-105
80-105
SHOE SIZE
40,5
40,5
40,5
41,5
41,5
41,5
42,5
42,5
42,5
43,5
43,5
43,5